Andrea is the first human assigned to Raf and Sulfus through most of Season 1 and the Movie. He is Ginevra's boyfriend. 
Andrea

Voiced by

Renato Novara (Original/Italian),
Unknown (English Dub)

Other names

Andrew (English, Portuguese Dubs and others)
Andy (Spanish Dub)
Romain (French Dub)

Age (at first appearence)

14

Origin

Affiliation(s)

Protected and Tempted by

Hobbies

Plays in

Golden School

's Basketball Team

Videogames

Riding his bicycle

First Appearence

Relationship(s)
Personality and Traits
Coming Soon...
Series
Movie
Old Comics Version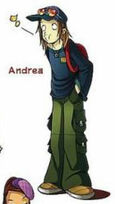 In the old comics Andrea was physically different from the one in the cartoon, he had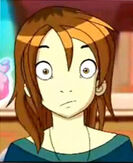 shoulder-lenght brown hair and brown eyes. He was thin, sleek and a little clumsy, he liked to wear a casual style: large multi-pocket pants, comfortable sweatshirt and a backpack always on his shoulder.
He is recognized by the nonsenses and lies that he shoots out: sometimes he tells them so well that he, himself, ends up believing in it. He loves the animals and is a volunteer with stray dogs. Andrea has got a second passion: Rita, a young italian-chinese girl who along with him takes care of the orphan puppies.
Andrea tries to stay away as much as possible from Filippo, a classmate and neighbor of his, who always tries to ridicule him by revealing the truth about his lies.
Clothes
Extras
Coming Soon...
Trivia
Coming Soon...